---
Their Story Matters with Sara Troy and her guest Richard Battle, on air from June
"The common question asked when someone loses a dear one prematurely is "Why"?" says Richard V. Battle, a lifelong Texas resident and award-winning author who lost his only son in 1998.
"Like the community in Uvalde, I was faced with a reality that I had never contemplated," he reveals. "After a long search, I found comfort that my son was in heaven, and my faith assured me that God was in control. I realized that I did not grieve where my son was but where he wasn't. I was then able to process my grief and resume living."
As reality sets in, the town will never be the same, and the grieving families and community will help each other through the healing process.
Richard is the author of eight books, including Surviving Grief by God's Grace, which details Richard's loss of his first and then only child, his son John. It is a story of the grief, spiritual quest, and grace that helped Richard and his family survive that loss and live with hope for the future. Richard has provided free copies of his grief book to the Uvalde library to help families cope with their irreparable loss.
We are on 5 sites and 16 audio and 2 video platforms as seen here.
Self Discovery Media. Choose Positive Living. Hub of Discovery Orchard of Wisdom Feedspot
Battle is available to give his unique boots-on-the-ground insight on this unspeakable tragedy and how the residents in the small Lone Star community of Uvalde will cope with the senseless loss of so many young lives and find healing in faith and hope.
---
LATEST BOOK
_____________________________________________________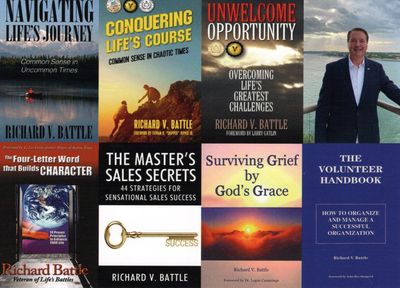 ---
---
HELPING PEOPLE WIN EVERYDAY
Richard's mission is to share ideas and experiences with the desire to
help people win life's race.

His uplifting messages will encourage, entertain and inspire audience members to attempt and attain new levels of personal performance
---

FIND ALL RICHARDS SHOWS WITH US HERE


FIND HIS WEBSITE HERE:

FIND HIM ON FACEBOOK HERE:

FIND HIM ON TWITTER HERE:
FOR MORE SHOWS OF INSPIRATION GO HERE
All of our shows/interviews are done by donation, if you enjoyed this show please support us here with either a one-time donation or subscribe and support on Patreon.