Choose Positive Living with Sara Troy and her guest 

Pamela

Miles airs from October 4th on
Ending the Hidden Cost of Failing to Set Boundaries That Spills Over Into All Aspects of Your Life – Not Just Your Relationships!
Boundary Expert

Pamela

Miles

Offers Salvation for Those Who Never Could Say No…
7 Tips to Build Blessed Boundaries
---
TUNE IN FOR ON-DEMAND LISTENING NOW
For mobile/tablets you can download free apps here:  http;//soundcloud.com/mobile
---
How often do you agree to something because you can't bring yourself to refuse? Are you overwhelmed at the end of the day because you just took on too much? Do you give more than you receive in your relationships? Does it feel like other people have more of a say in your life and the use of your time than you do? Are you afraid if you say no, you'll be viewed as selfish?
Then there's a pretty good likelihood that unclear boundaries are the problem. Without the protection of firm, clear and compassionate boundaries, you are at the mercy of others–whether they intentionally bully you or not. Whether it's societal pressure, a dominating spouse or partner, or the way you were raised, the effect of not having strong boundaries spills over into every aspect of life–not just your relationships.
Unclear boundaries impact your health, your work life, your vitality, your self-respect, your finances, all your relationships–with your child and your parents, your partner, your friends and colleagues–and dozens of other ways you might never fathom. Unclear boundaries leave you vulnerable to be manipulated easily and often.
But salvation is at hand. Boundary expert
Pamela
Miles
is revealing her
7 Tips to Create Blessed Boundaries
,
Blessed Boundaries
a brief selection from her life-changing three-week interactive online program that features "
Pamela
's Pearls," nuggets from her 40+ years as a professional leader in health, wellness, self-care, meditation and other spiritual practice. Blessed Boundaries teaches people in a gentle and loving way how to hold their own in the world with skill, grace and compassion. And invites participants to be supported by a private online community among people who are also on the path to Boundary Recovery.
---
SHOW AIRS HERE WITH ON-DEMAND LISTENING OCTOBER 4TH
Pamela's 7 Tips touch on: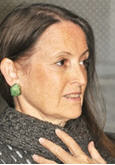 The one word to remove from your vocabulary
How to engage your body to support your boundaries
One action that creates a profound shift
Why your sense of fairness is misguided
How to engage your want power and your won't power
Why your self-care is your primary obligation
A simple exit strategy that keeps your options open.
Pamela
Miles
has taught at Yale Medical School; presented at Harvard Medical School and the National Institutes of Health; and has been
interviewed
by a wide range of media, including CNN, NBC, FOX, Allure, U.S. News & World Report and Dr. Oz.